After Kerry's diagnosis, we were thrown into a frenzy and by the end of July 2019, we had so many unanswered questions: Why our family? How could this have happened? Did we do something wrong? What's going to happen to the grocery store that my sister and her family launched a year ago? How would Kerry's husband, my young niece, and nephew cope with this? Our emotions took several roller coaster rides going forward and backward with highs and lows of uncertainty.
As if the cancer diagnosis was not enough in June 2019, Kerry was also diagnosed with Cushings – a condition that exists when the body makes too much cortisol on its own. Before this diagnosis, I had no idea what cushing syndrome was. I watched my sister go in and out of intensive and emergency care – struggling to remain sane because of the high cortisol levels in her body. It made her delusional… it was very painful to watch… it was hard to grasp… I thought initially that there had to be some mistake; there was none. To control the cortisol levels in her body, the doctors had to remove her adrenaline glands. The season had come to test our foundation – everything we believed. The season proved very real; it was the beginning of a very hard pathway!
Our burden was heavy and I felt extremely unprepared and ill-equipped to deal with the hard-pressed season that had begun. During the summer of 2019, I was completing my practical training as a web designer at Lone Star College-Tomball and being a single mother with recently-turned 12-year-old twin girls, I did NOT want to be challenged mentally, physically or spiritually. Yet here came this uninvited season, ruffling my contentment feathers and avidly calling me to a higher spiritual level. When the hardness of the season hit me like a rock, I knew I had to make a choice. I had two options: I could either face the season alone and overwhelm myself with what it brought or I could release my burdens to Someone I knew who told me through His Word to cast my cares on Him; either way I could not emotionally or physically bear this burden alone. Through lack of understanding, hurt and pain, I chose to release my burdens – I turned to the God who knew what it felt like to watch His Son suffer pain.
One day in the first month that Kerry was hospitalized, I came home after being at the store all day. I was heavily burdened and I felt the emotional pressure building up in my head. As I showered, my tears flowed as I sought God for wisdom and strength; I thank God that no matter where we are or what we're in the middle of doing, He shows up whenever we call. Like heavy rain down-pouring on parched plot of land, I felt the warm presence of the Holy Spirit pouring into my body; it felt like a wave washing over me – I was given a garment of praise for my spirit of heaviness. I began worshiping and as my tears flowed, I could feel God's embrace as He assured me that He would be with us all the way. I released my sister into His care and then I heard Him whisper softly, "this sickness will not end in death." I heard it, I embraced it and I left home for the hospital to declare it. I was anointed for the season.
I know you may be wondering what made me sure it was the voice of God that I heard and not what I wanted to see happen playing out through my emotions. Excellent question! At first, I felt confident that it was God and I declared it wholeheartedly but a few days later… I had doubts! Yes, believe it or not… (now I understood more clearly what happened to Eve in the Garden) I began to have SERIOUS DOUBTS! What if I was wrong? What if what I declared was my emotions and not the voice of God? We all go there sometimes… hearing from God then wondering if it were really God. To be honest with you, there's no way to tell if you do not have the Holy Spirit living on the inside of you to confirm what you heard. The moment that the enemy started asking, "did God really say…" is the moment the Holy Spirit started responding to my doubts and the enemy's questions with the Word. That's when I knew! Every time I heard the question in my mind, "how are you so sure?" (and I still hear it from time to time), I hear a resounding Word in my spirit, "by His stripes we are healed (Isaiah 53:5)," "honor your father and your mother that your days may be LONG on the earth (Exodus 20:12)," "if you have faith as a mustard seed (Matthew 17:20)," or "for with God nothing shall be impossible (Luke 1:37)" but the question is always answered through a verse. Even though I get these timely responses to my doubt, I've riveted in my mind that the thief comes to steal, kill and destroy but Jesus came to bring us life here on earth and in the life to come. Since it is the Father's will to heal us, we must not allow the thief to invade our thinking but focus instead on what God says through His Word! Hang on to the Word of God for dear life!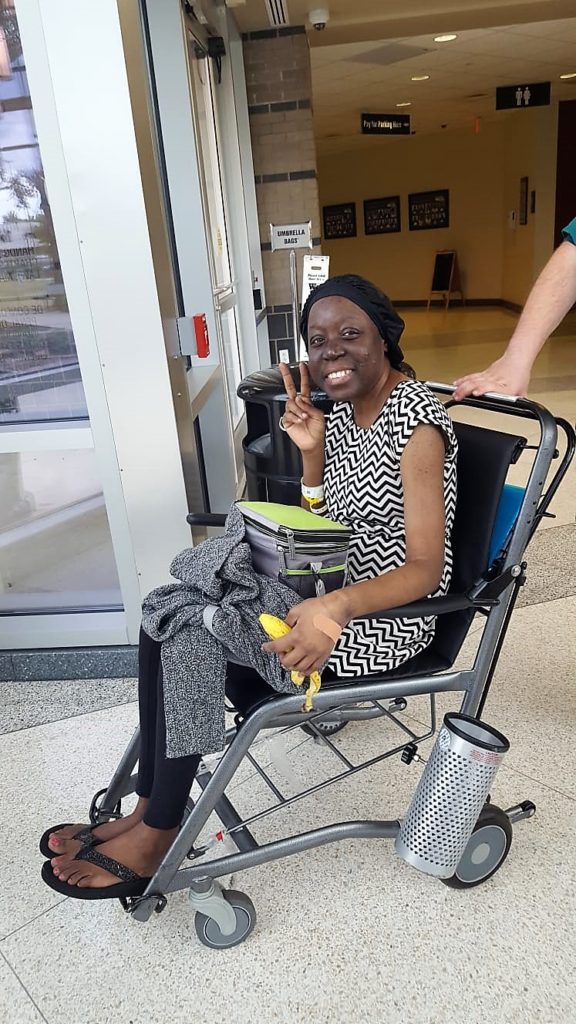 Kerry was hospitalized from June to August 2019 after her initial diagnosis; she was also hospitalized several times since then – the season continues but as a family, we will continue to declare God's Word over her life.. over all our lives. In 'Our Journey, Episode 3,' I will share with you some of the obstacles we faced as our faith began to stretch. Until then, walk good.
God bless you!
Keisha-Marie